We offer a variety of dental payment plans to help you budget for your dental care. These plans can be tailored to your needs.
Denplan Care
Denplan Care is a really easy way to spread the cost of all of your routine treatment into affordable monthly payments, reducing the chance of receiving unexpected dental bills. This plan will cover your regular check-ups and hygiene visits with your dental team, as well as any restorative treatment you may need.
Denplan Essentials
Denplan Essentials is an easy budgeting plan that covers you for the foundations of your dental care, helping to stop problems before they start. This plan covers you for your regular check-ups and may also include a scale and polish or hygienist appointment, depending on the dentist you choose.
Denplan Hygiene
If you like to have your teeth cleaned regularly by a dental professional for a clean and natural smile, are quitting smoking, or have had a dental implant, Denplan Hygiene helps you to receive regular time with a dental professional and makes treatment more affordable with simple monthly payments.
Denplan for Children
Denplan for Children helps to protect your children's teeth with preventive and educational care encouraging a healthy smile for life.
Denplan Membership
Denplan Membership is a simple monthly budgeting plan that guarantees you a place with your registered dentist. Dentists may also offer discounts on routine and restorative treatments as part of this plan.
Denplan Emergency
Denplan Emergency cover offers you peace of mind in the event of a dental injury or dental emergency whether you're at home in the UK or abroad.

Spread the cost of your treatment with Queensway Dental Practice Payment Plans!
Queensway Dental Practice are proud to work with "Dental Finance", to provide our clients with tailored finance options towards dental treatments. Dental Finance provides a simple and affordable way to spread the cost of your dental treatment with a 0% Interest Loan, or an Interest Bearing Loan at 9.9% APR*.
0%* payment plans
To put it simply, taking up one of our dental payment plans would allow you to spread the cost of your treatment. This is obviously a good route to take should paying for your treatment in one upfront payment be complicated financially.
Speak to one of our committed team and you can view the different options, including interest free credit for 12 months.
The finance is processed by our trusted partner, medical and dental finance specialists Chrysalis.
Calculate for yourself the monthly repayments for your treatment by entering the cost in the Chrysalis calculator:

Have the treatment you wish right now
Simple online Application in the privacy of your own home
Instant decision in 10 Seconds
Sign online using E-signature, no paper forms
No Embarrassing Questions to answer in the Practice
Unsecured loans from £500 to £15,000
Spread the cost to suit your monthly budget
Arranged by established lender
Secure portal
Apply in complete privacy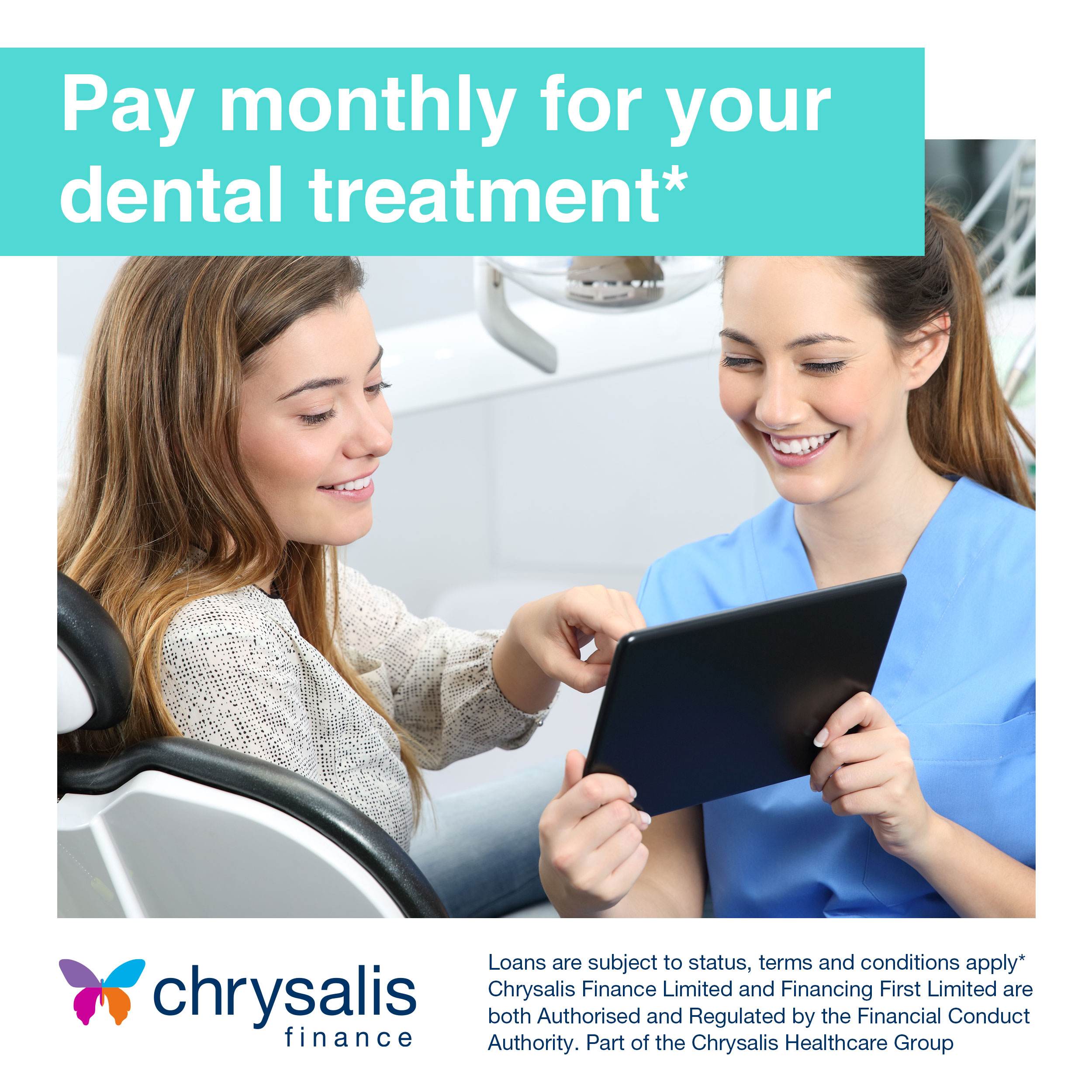 How do I apply?
You will need to complete a simple, online credit application, which one of our team can help you with.
How much can I borrow?
You can borrow between £350 and £25,000, subject to status. You must be over 18 to apply, and you must have lived in the UK for at least 3 years.
Do I have to pay a deposit?
A deposit is not required, but if you want to pay one and so reduce the amount you borrow, this is completely up to you.
How much are the repayments?
Depending on the amount you borrow and whether you pay a deposit. Our team will show you, completely without obligation, the monthly repayments for your particular treatment.
How do I make the repayments?
The monthly payments are collected by Direct Debit, starting one month after you sign the credit agreement, and are subject the usual guarantee from your bank.
When can I start the treatment?
Immediately – as soon as the credit agreement has been signed.
What if I decide that I don't want the finance?
There is a statutory 'cooling off' period of 14 days after signature during which you can cancel the credit agreement with no cost to you. However, if you have started any treatment which would have been financed, you will have to make other arrangements to pay for it.
Who provides the finance?
The finance is arranged through Chrysalis Finance Ltd., a company authorised and regulated by the Financial Conduct Authority to carry out the regulated activity of credit broking under Firm Reference Number 631193.
*Amount of Credit £2,000 Total Amount Repayable £2,520.00 Repayable by 60 monthly payments of £42.00. Representative 9.9% APR variable. Finance is Subject to status and full terms and conditions apply.
Queensway Dental Practice is one of the most highly reputable orthodontic. When a Dentist needs to refer a patient for orthodontics, they know where to send them. We are conveniently located along the main high street with free and easy parking, just a two minute walk from practice. We cater for anxious and nervous patients.
Offer a wide range of NHS and private treatment. Flexible appointment times available exclusively for private patients. We offer emergency appointments. We provide our Denplan and private patients with domiciliary dental care. Infection control is of up most importance at Queensway Dental Practice. All members of our team are fully trained in infection control.
We believe that you have a unique need and desire when it comes to your teeth and oral health, which is why our knowledgeable orthodontic staff and doctors are ready to treat you that way.
Status Disclosure
Prasanta Kumar Banerjee, trading as Queensway Dental Practice, is an Appointed Representative of Financing First Limited, which is authorised and regulated by the Financial Conduct Authority to carry out the regulated activity of credit broking.